Internet Update
The MOH 2000 has the capability to update its contents via a broadband internet connection using standard FTP protocol from any FTP server. This effectively eliminates the need to dedicate servers for content management.
A Content Management Software (CMS) is provided that can be installed in any PC to manage thousands of units across the globe.
Installation
Installing the MOH2000 on to your customer's Local Area Network (LAN) is easy; just connect the unit to the LAN via the built-in Ethernet Port and power up the unit. The MOH 2000 will automatically assign itself an available IP address and the Gateway (using DHCP).
Configuring the unit can be accomplished by using the configuration software provided along with the unit. The unit's built in diagnostics help you to check whether connection to the FTP server has been established.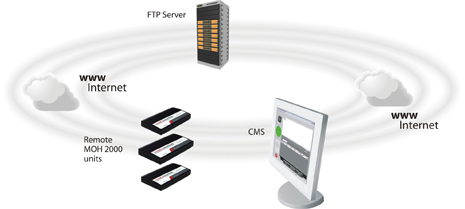 Content Management
A Content Management Software (CMS) is used to manage remote units installed at the customer's site. Thousands of units can be managed using the CMS making it an ideal product for MOH content providers, multi-location businesses, call centres and any business that needs regular content update.
Operation
The MOH 2000 checks the specified FTP server daily at a programmed time (example: daily at midnight) and downloads fresh content when available. The entire operation is secure since each MOH 2000 has a unique serial number associated with it and the unit's authentication is done prior to each download. An on demand download of fresh content from the CMS to the MOH 2000 can also be achieved if desired (requires Static IP address at the customer's site).